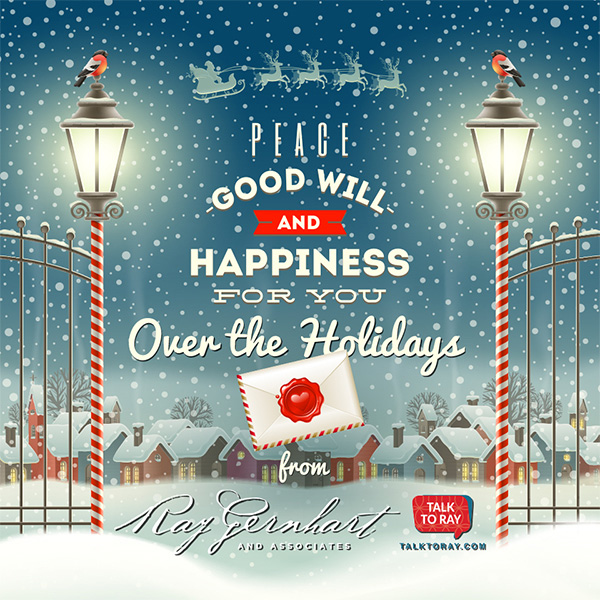 Typically, the time around Thanksgiving through New Year's Days is the least busy time in the real estate market. But that doesn't mean it's as non-existent as – SPOILER ALERT – Santa Clause (just kidding – he totally exists!) There's actually a couple of opportunities for buyers and sellers that can go under the radar during this period.
At Ray Gernhart and Associates, we understand real estate miracles can happen during the holidays. Here are three reasons to check off the more nice than naughty reasons during your holiday home hunting.
Fresh and Exciting
Just like taking out your holiday decorations again to celebrate new beginnings, some sellers are known to remove their home from listings to have them return as a brand new listing in January to draw more traffic. Since new listings can be perceived as a new opportunity to potential buyers, it's important to keep close communication with your real estate agents because they may have some available options that they're preparing for in the near future. So make sure to ask your agent about unlisted homes they're working on.
Also, did you have a hard time selling a home that had a few drawbacks? Maybe an ill desired location? Your "hard-to-sell" home could be more noticeable when there are fewer homes for sale over the holidays.
Eager Sellers
People who are trying to sell their homes over the holidays usually want to sell before spring comes. Maybe they need to relocate for a number of reasons, or their home has been listed on the market for a while and they're just mentally exhausted and would like to sell to the highest bidder and move on. For all these reasons, that can be the perfect winter wonderland storm of motivated sellers with decreased competition that offers you (the buyer) to have great leverage for a better deal.
Pro tip: Thanks to Boxing Week and lingering sales, new furniture or other items needed in your new home will most likely be on sale in the chaos of seasonal clearance sales. Just remember to spend on items you were already itching for instead of just another cabinet to continue your bobble head dolls hoarding!
Just want to focus on the holidays? List your property in January.
We understand, the idea of keeping the house clean, being on alert for open houses, and last-minute home exits to accommodate potential buyers during the holidays is a deal breaker for some. So why not just list your property after New Year's Day. There will always be a percentage of on-the-fence buyers who lost interest earlier in the year and are now motivated again to find a new home in the new year.
There's something about the beginning of a new year that motivates people to make improvements in their life, including a new setting. Maybe a rich relative gave them money for a down payment (don't count on it). Either way, there can be rise in inquiry calls at a time when selling and buying is traditionally low, which means less competition and an even more "eager" audience in January.
Our round-the-clock dedication to staying on top of the most up to date tactics to sell your home during any season is why you should "Talk to Ray"!