Welcome To The American Dream 
by Ray Gernhart
Dear Renter,
Just a quick thank you note from the patio of my new, beachfront condo. What a view! I've never been happier. Seriously, I wouldn't be here without YOU. Thanks to your timely rent payments, I've paid my mortgage in full on the townhouse you've been renting from me. That townhouse has turned into a real cash cow. Truthfully, I wasn't sure what to do with all that excess rental income, but then Bam! It hit me! You were paying my mortgage before, so why not pay my mortgage again, on a new property?! Thanks to you, my real estate portfolio is getting really impressive! Watch out Trump!
I want to do something for you as a token of my gratitude. I know the lease says that your rent will increase 4% every year, but I'm only going to raise it 3% this year. I want you to take that savings and treat yourself to a nice dinner—on me!
With deepest gratitude,
Your Landlord
PS: I've considered your request to adopt a dog, and I worry about fleas and smells. We've got a good thing going, so, lets not add another "roommate".
———————————–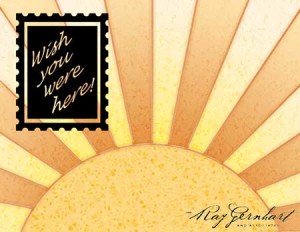 Dear Landlord,
I'm glad you are enjoying the beach condo that I inadvertently bought you. I'd like to thank YOU for opening my eyes to real estate investment. It never occurred to me that my rent payment was a mortgage payment for somebody else. Talk about an ah-ha moment.
Anyway, after getting your letter, I immediately got in touch with Ray Gernhart and Associates. They helped me get qualified for a mortgage, and walked me through the whole process. They even taught me that real estate is one of the only investments you can leverage. And, get this! It turns out, between the low interest rates and tax incentives, it makes more financial sense for me to buy a home than to rent, so this note will also serve as my thirty day notice.
Honestly, buying my own home was about more than money. I thought you might be interested in all the reasons I finally decided to be a homeowner.
I want security and stability. No more rent increase surprises, or unexpected moves.
I am sick of white walls and off-white carpet. I want the place I live to feel like home. I am looking forward to painting the walls with colors that I love. I can finally put nails in the walls and make design changes without the fear of losing my deposit.
I want to be part of a community by committing to living here and starting my family here.
I want a tangible investment for my long-term wealth. Did you know that according to a recent Merrill Lynch study, homeowners my age have an average of $111,000 in home equity?
I want to adopt a dog. My house, my rules.
So, Landlord, you had a good thing going, and now I will too. Who knows, maybe I will be landlording someday. Either way, it feels good to share the American Dream with you.
Cheers!
Homeowner (formerly known as Renter)