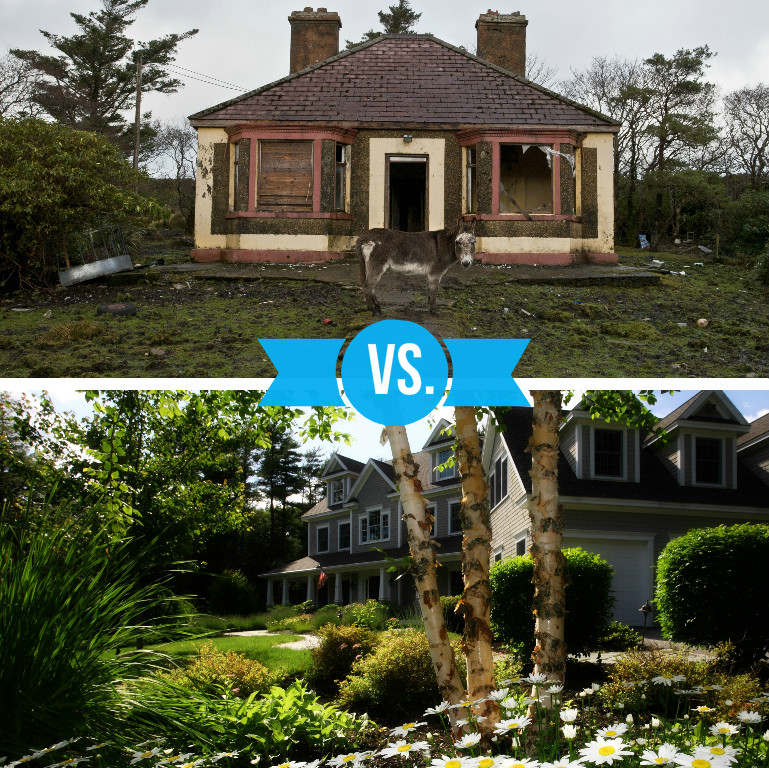 If HGTV hasn't drilled into us the importance of curb appeal, let us try! Homes with great landscaping see an average of 5% more on their offers. 5% is worth $25,000 on a $500,000 home. If you are playing catch-up, landscaping is an expensive and daunting task…So, how do you get great curb appeal without the big bucks? Not to worry. From your door to the sidewalk, we've got you covered!
As Good As Gold
Without a doubt, the #1 thing is cleaning up the entire exterior of your home. If you have peeling paint, a paint job is in order. If not, a good exterior wash can be just as effective! For decks and siding, you can rent a power washer for less than a hundred dollars a day. You can wash shutters, doors, porches, outdoor furniture, and windows yourself with a bucket of soapy water, a long-handled soft bristle brush, and a squeegee. A few teenagers with nothing to do, wouldn't hurt, either (don't quote us on that one!)
Penny Wise
The pathway to your door should be welcoming, and easy to traverse. Low maintenance plants like common Marigolds and ornamental Thymes are perfect for lining walkways. Consider adding solar lights to create an attractive and safe journey to your front door at night. They are surprisingly affordable, and work great next to the driveway too!
Bought for a song!
Now it's time to green up the greenery! Look around at your neighbors yards and stay in line, if not tidier, than the lawns around yours. Mow, edge, weed, bag leaves, pick up branches, plant a few colorful perennials or annuals in planters, and clean up kids toys. Reseed any patches of dead grass to make your yard as evenly green as possible. Remember, you only need to keep up with the Joneses for the sale period!
Sweeten The Deal
Consider all the senses. Wind chimes and weather resistant art create inviting colors and sounds. Herbs like lavender, can add intoxication scents. If you are feeling ambitious, the addition of a water feature such as a fountain can add a zen element to your landscape. Luckily, there are plenty of inventive fountain guides to help you install your own water feature on a budget.
Small Potatoes
If you're like most people, you haven't thought about your house number since you moved in. Replacing them with an updated look shows visitors the attention to detail you've paid to your home. If you're crafty, you can save money by painting them yourself, or here's a great DIY tutorial on making your own numbers! This goes for your mailbox too. Update your mailbox with a fresh coat of paint, and new numbers. Brightly painted mailboxes add a cheery presence to your overall landscape.
Up The Ante
If you're not ready to sell just yet, and are looking ahead for next year (good for you!) then planting a tree is an excellent idea! Even planting one now can give your property an edge. Trees are so varied and valuable, there's even a calculator to find out how much one will save you each year! Just make sure to avoid a few that would be more trouble than they're worth.
Have any questions or ready for us to help you buy or sell a home? Send us a note or call (703) 824-4731!