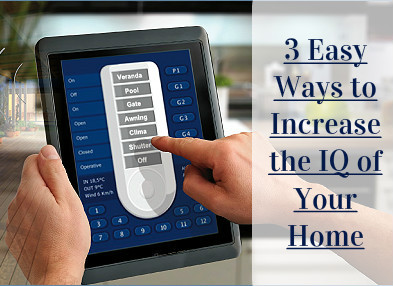 From driverless cars to immersive VR, this year's CES left us reeling in the possibilities for smart tech as an even greater part of our everyday lives. Decking out your house with a full package, like those offered by boutique companies, can be intimidating. Instead, let's break down the basics to get the technological ball rolling in your home!
Thermostat
We've hinted at smart thermostats before, but with this years newest additions, they're smarter than ever! The Nest Learning Thermostat programs itself in about a week, learning what temperature you prefer when you're home and reducing services when you're not to save energy. The Ecobee3 is able to sync with Apple Homekit or Amazon's Alexa, and this sleek thermostat can reduce energy costs by ensuring all rooms in your home are heated or cooled to the right levels. No more chilly basements and steamy attics! Not looking for that much of an investment? No problem! The Ecobee Lite and Sensei Smart both boast incredible features, quick installation and compatibility with smartphones and Alexa.
Light Bulbs
Manual sliders will be a thing of the past with the wide range of Phillips Hue LED bulbs flooding onto the market. These cost-efficient bulbs come in a variety of Lumens, colors and smartness, and connect to a bridge, or hub, that can be controlled with an app or Alexa. Fill in older bulbs as they burn out and within a year, your Clapper will be obsolete!
Updating non-smart devices
We've seen smart locks, faucets, even Crock Pots, but if you're just looking to dip your toe in the proverbial tech pool, then why not start small? A smart plug can turn any device into a smart one! These no-hub-needed devices are a thin addition to an outlet and use the app or Alexa to control any on/off device. Perfect for humidifiers! Alternatively, if you're ready to wade into the shallows, wireless hubs come in a variety of sizes and options, and update multiple non-smart devices to be compatible with a single app.
Choosing your service
As we move forward into the tech future, it's easy to jump on the next new device. Unfortunately, this can lead to using multiple apps for your household devices, which will quickly become cumbersome. Choosing which platform you like best when you start upgrading to smart devices will enable you to streamline your control in one place as tech advances. Fortunately, there are many great options, and getting smarter all the time! Some allow for voice control, like the Google Home and Amazon Echo, while others are fully integratable with your phone, rather than just being an app, like the Apple Homekit. We liked this article to help decide which is right for you and your home!
Looking to jumpstart your tech upgrades? Have you worked with (or are you currently working with) one the great team members at Ray Gernhart and Associates? Then, with 3 to 5 minutes of your time – you could win an Apple Watch Series 2!