Looking for a Rental to accommodate your Quality of Life and Flexibility?
We help ambitious professionals find their dream houses, apartments, and condos—without a huge mortgage to tie them down.
Are you tired of looking at rundown rentals that look they've been hosting college parties for the last 30 years?
Do you want to love where you live—without having to spend hours a week on lawn care?
If you answered "yes" to any of those questions, we can help. Ray Gernhart and Associates has a deep understanding of the local rental market. Our high-quality rentals are places you can actually call home.
You're not in college anymore. You have a professional career and want a home that reflects your lifestyle. But when you look at the mortgages your friends are taking on—saddling them with huge debt for decades—you're just not comfortable with that idea.
So you're looking at rentals. Terrific! We have a huge selection of carefully curated rental properties. Sure, you could search online. But that usually means sinking time into sifting through spam listings, weeding out scams, and vetting landlords—and that's before you even start visiting places.
We rigorously pre-qualify all of our listings and landlords, so you don't have to waste any time. And that comes at no extra cost to you. (In fact, landlords pay us to list their rentals, because they want high-quality tenants.)
We'd be remiss, though, if we didn't mention a couple things.
A LOT of people come to us looking for rentals, saying things like:
"You know, I'm just not ready for a house."
"I'm not sure how long I'll be here—it might only be a couple years."
"I really just want a low-maintenance apartment in an area where I can walk to public transportation and coffee shops."
"I don't have 20% for a down payment."
They're often surprised to learn that:
If you plan to stay in a home for more than a year, you're probably better off buying. Otherwise, you're losing the opportunity to build equity.
With creative financing, you can buy a house with less than 10% and sometimes even 0% down.
And if you think about it, how much more work is a condo than an apartment? The main difference is that with one, you're building equity, and with the other, your money's just gone.
We've helped thousands of renters buy their own homes with financing that works for them. We help buyers look at their financing options from a holistic standpoint—ensuring they get the best home for their situation. And since we've been doing this for 30 years, we have an extensive network of financing partners to work with.
At every step of the way, we're available to answer questions and to help you through the process—a 180° difference from working with a bank.
Fill out the form above, and we'll get back to you with a FREE, no-commitment chat to determine whether home ownership might be possible for you.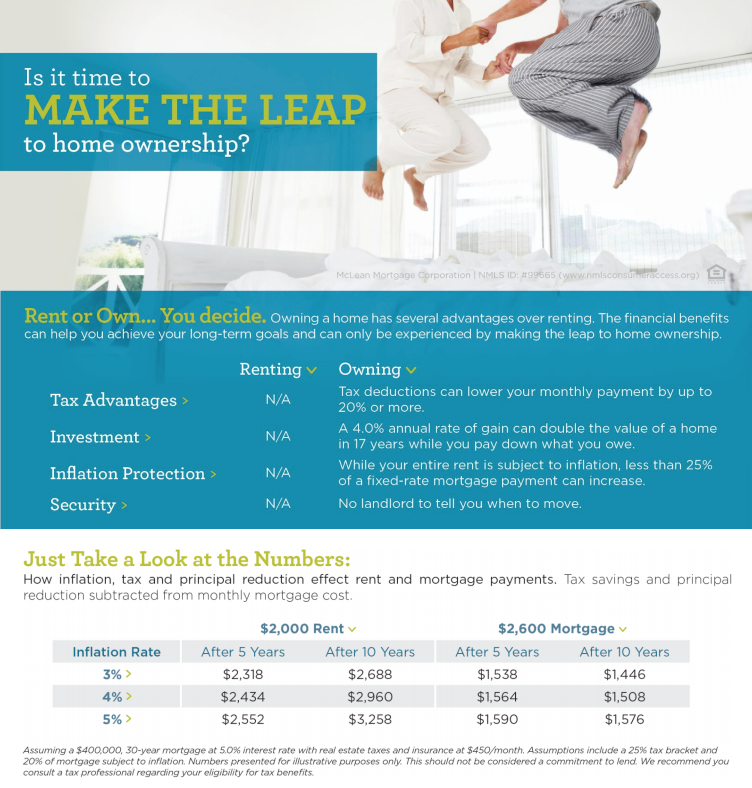 TESTIMONIALS
I love Ray! He showed my husband and I amazing, reasonable homes to purchase and I couldn't be any happier. He is also the sweetest, most genuine person ever and I have referred him to everyone I know! Trust Ray because it will be the smartest decision you ever made!

We've used Ray for all our real estate transactions since the late 80s when I moved to VA and bought my first condo in Fairlington. We've since upgraded to a single family home in Vienna, VA and Ray has helped us find some great investment properties in Arlington. He really knows this area and knows how buyers, sellers and renters think. Every transaction we've done has been profitable, thanks to Ray!

Ray has been so helpful with trying to find us a house in northern Virginia. My husband and I are both so pleased with ray's caring and meeting our needs. I highly recommend him to everyone.

Ray helped us over the time period of 5 months to find the perfect house. He showed us many homes and wasn't pushy to try and have us purchase a house that was perfect for us. Excellent to work with, very professional.

Ray is definitely in a class above almost all realtors in this area. This was my third time working with Ray. I sold my condo and I got an offer that was better than my asking price within the first week. The closing went smoothly and my move was a complete success.

We highly recommend Ray and his team! We used two different realtors before finding Ray, and we wish we had found him sooner. His expertise and responsiveness were unparalleled, and he took all the stress out of the home selling process!

Our family first met Ray when we were selling our late mother's home. Ray represented the buyer. He was so knowledgeable and personable that both my brother and I sought his help when we started our own home searches. Buying a home can be so stressful but Ray and his team made it feel seamless. He is my "go to guy" on real estate. If you need a competent responsive realtor, definitely Talk to Ray!

Ray Gernhart or Re/Max Alliance and his staff to list and sell our home in South Arlington in the summer of 2015. Ray and his team went above and beyond to obtain multiple qualified offers and facilitated the follow up activities to bring the deal to a successful conclusion for all parties. We were extremely happy with the process, how we were represented, and were satisfied with our final price we achieved on the sale.

I consider myself VERY lucky to have connected with Ray when looking to purchase my first home recently - he was amazing though the entire process ... Being it was a first home, he knew it was an overwhelming experience for me but took the time each step of the way to explain everything and make sure I was comfortable with all my choices/options. Ray is completely professional and knows the Northern Virginia area VERY well and can really help navigate what could be quite a stressful life experience.

Working with Dan Seiler, who is part of the Ray Gernhart team was a great experience. Dan worked with us to find the perfect house that fit our wish list. We will work with Dan again in the future for any of our real estate needs.

Before I started working with Ray Gernhart, I "fired" two other agents. They didn't know or seem to want to learn what I wanted. Ray quickly learned what I liked and soon was pointing to things in homes that he knew I liked or didn't like about a home. He's not an agent that is looking to sell you the most home you can afford/your lender approved you for. Ray wants to sell you the right home. We finally closed on a home at about 75% of my pre-approved loan. Who does that, but an ethical agent truly representing their client's best interest.

My wife and I cannot be more happy with Dan and Ray's expert help. They treated us like they've known as their whole lives and they were extremely patient. The experience was truly easy and they helped us find the perfect home.