According to the United States Department of Labor, Labor Day is a "national tribute to the contributions workers have made to the strength, prosperity, and well-being of our country."
In other words, thanks for all your hard work, now have a good time! We have you covered with this list of Labor Day weekend events happening in the DC Metro area.
There is a little something for everybody, so have a good time–you deserve it!
Washington, DC:
There is something truly special about sitting on the lawn of the U.S. Capital and singing along to Woody Guthrie's "This Land Is Your Land" played by the world renowned National Symphony Orchestra. Be prepared to swell with national pride.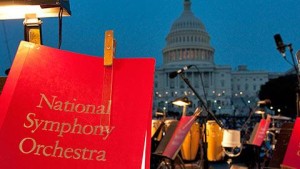 September 6th at 8 p.m.
West Lawn of the U.S. Capitol
FREE event, no tickets required. Gates open at 3 p.m., open rehearsal at 3:30 p.m.
Note: No alcohol permitted.
Steven Reineke, conductor
Kate Davis, vocalist
Soldiers' Chorus of The United States Army Field Band
Like Them On Facebook
We love to dance so this show is on our weekend radar. DC is the home of Go-Go music and what better what to pay tribute than enjoying a line-up of DC raised Go-Go bands who will have you up dancing and part of a historical music scene in one memorable night!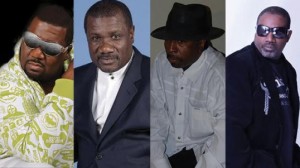 September 6th 9pm
Howard Theatre
620 T Street, NW
Washington, DC
Featuring music by Big Tony & Trouble Funk, Sugar Bear & EU, James Funk & Proper Utensils, Buggs & Junkyard Band
Doors open @ 8:00 PM
Tickets $30 – $65
Follow On Twitter: @HowardTheatre
Like Them On Facebook
Keith Richards once said, "If you don't know the blues… there's no point in picking up the guitar and playing rock and roll or any other form of popular music." Lucky for us, The DC Blues Society knows the blues! They put together a wide variety of events throughout the year to celebrate blues music and its musicians. This annual festival is in its 27th year, and is unique fun for the whole music-loving family. Where else do you see an Instrument Petting Zoo?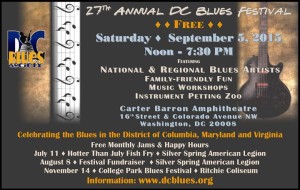 September 5th 12pm – 7:30pm
FREE at the CarterBarron Amphitheatre
Brought to you by the DC Blues Society.
Like Them On Facebook
If you are theater lovers like us, the annual Page To Stage Festival is an amazing opportunity to preview shows that are debuting in the Washington theatre scene's 2015/2016 season. All the shows are free and tickets are first come-first serve, thirty minutes prior to each show. The full schedule with show descriptions are on the site. This is an exciting event, loaded with local talent. We look forward to it every year!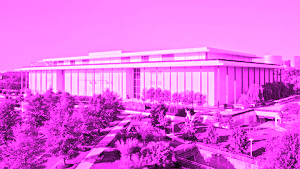 September 5th-7th
Venues throughout the Kennedy Center
Saturday, September 5, 10:30 a.m.–11 p.m.
Sunday, September 6, 6–7 p.m.
Monday, September 7, 11 a.m.–10:30 p.m.
FREE! No tickets required, limited seating available.
Follow On Twitter: @kencen
Like Them On Facebook
Maryland:
Oh, to be out on the Chesapeake Bay with the wind in your hair, and butter-dipped crab in your tiny forks.. The Skipjack is the state boat of Maryland, and the last working sailboats in the United States! Skipjacks are used to dredge oysters from the Bay, and this festival gives homage to this hardworking boat, and the community that loves it. Bring the family and enjoy the races, live music, classic cars, great food, and a bunch of other stuff!
The 56th Annual Deal Island Skipjack Races & Festival

September 5th-7th
Skipjacks race on Monday at 9:30 am
Follow on Twitter: @TravelMD
Like Them on Facebook
If there is one thing we know from working with our clients in Kensington–they are a close knit community that knows how to put on a parade! There is nothing like a hometown parade to show off your town, its people, and its businesses. If you can make it or live around Kensington, enjoy the parade!

September 7th 9:30am-5:30pm
Facebook Event
Run, or better yet, crab walk to this one-of-a-kind, annual. crab-themed blast of a festival in Crisfield, Maryland. Crisfield considers themselves the crab capital and this festival will convince anybody of that. It lasts for four days and in additional to carnival rides, crab races, crab picking competitions, live music, firework, and wait for it….A Miss Crustacean Pageant!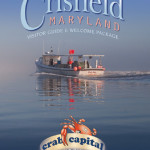 September 3rd-6th
Somers Cove Marina
Follow on Twitter: @CrisfieldMD
Like on Facebook
Need art for your home? We encourage you to explore art from local artists. This art show is in its 45th year and showcases over 250 artists. You can enjoy art in a variety of mediums including sculpture, painting, glass work, and ceramics. Mingle with the artists and find an original work of art to complement your unique style.
The 45th Annual Labor Day Art Show at Glen Echo Park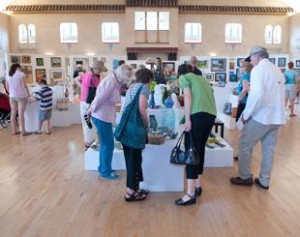 September 5th–7th 12pm-6pm
Reception, Friday, September 4
Spanish Ballroom, Glen Echo Park
7300 MacArthur Blvd, Glen Echo MD 20812
Follow on Twitter: @glenechopark
Like Them On Facebook
Virginia:
Did somebody say "men in kilts"? These men in kilts will thrill you with their athletic prowess in traditional Scottish strength games. Cheer on your favorite athletes, and also enjoy the sheep herding, music, food, dancing, and plenty of fiddles!

September 5th-6th
Great Meadow
5089 Old Tavern Road
The Plains, VA 20198
Follow on Twitter: @vascottishgames
Like Them On Facebook:
This one has our name all over it! If you enjoy delicious food and wine, and care about how it's made, you will want to grab your tickets to Epicurience. This takes place in Virginia's wine country, Loudoun County, so you know the views will be good too. The festival is meant to be an experience so you will be drinking lots of local, award-winning wines, and tasting food prepared by renowned chefs from around the country. What a splendid way to spend the day!
September 5th
Morven Park, Leesburg, Virginia
Follow the latest on Twitter: @EpicurienceVA
Like Them On Facebook
Tickets on sale now!
Do you get excited for Fall, and the apple season that comes along with it? We do too! Great Country Farms is a terrific place to celebrate both with the kids. Let them run around and explore the barnyard, mazes, and jumping pillow while you enjoy an apple wine tasting, and enjoy the live music.
Great Country Farms Apple Gala & Cider Festival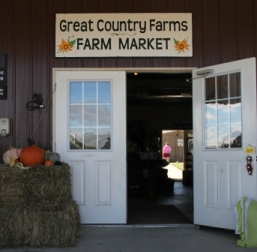 September 5th-6th 9am-6pm
$10/child & $12/adult Weekend Admission
Cider Festival Schedule for Saturdays & Sundays:
9:15-5pm Wagon Rides to the Apple Orchard~ Apples are $1.99/lb
11am-3pm- Fresh Cider and Apple Wine Tastings
11am, 1pm & 3pm – Cider Pressing Demonstration
Follow Them On Twitter: @TheFarmerSays
Like Them On Facebook
Our clients in Herndon brag about their annual Labor Day Festival, and we can see why. Get a ticket to this one-day event and enjoy unlimited wine tastings! You will also enjoy a variety of craft brews while listening to live, local music and probably running into your Herndon friends. This is a town that knows how to have a good time!
Herndon Labor Day Festival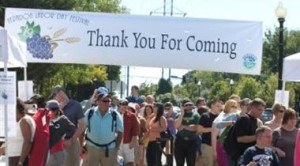 September 7th 11:00am-5:00pm
Herndon Town Green, 777 Lynn Street, Herndon, VA 20170
Admission
Wine, Craft Brew Tastings and Entertainment – $20
(ID required to purchase tastings)
Concert only or designated driver – $5
Extra beer tastings – $2 per ticket Follow on Twitter: @HerndonParks
Like Them on Facebook