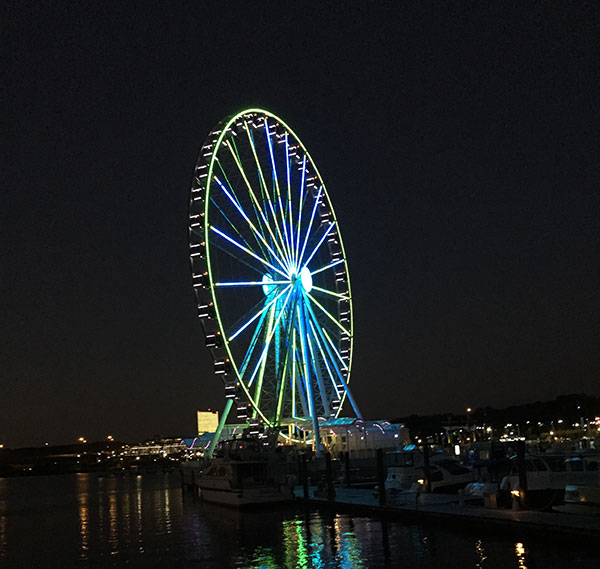 When you visit National Harbor today, it's hard to imagine that a decade ago this same corner of Prince George's County was 350 acres of undeveloped land. Today, it's a bustling mixed-use community that offers some of the most interesting entertainment, shopping and dining experiences in the Washington area.
Situated just south of Capitol Hill on the banks of the Potomac River, the site offers a little something for everyone: tree-lined streets that provide access to dozens of storefronts and eateries as well as several hotels, the Tanger Outlets and the Gaylord National Resort and Convention Center.
Last year saw the addition of the MGM, a towering complex that features a casino with 140 gambling tables, a 300-room hotel and several signature restaurants.
The real star, of course, is the mile-plus of waterfront on which the development is situated. Head toward the shore and you'll find the National Harbor Marina and The Capital Wheel, which provides breathtaking views of the capital.
A lively, unique home
Not surprisingly, National Harbor is one of the area's biggest destinations, attracting more than 11 million visitors each year. But it's proven itself to be more than just a tourist spot ‒ it's also one of the most compelling, and unique, places to live in the area.
The community offers several apartment and condominium complexes that will no doubt appeal to residents seeking an active lifestyle in a one-of-a-kind location. Where else can you walk to outdoor movies in the summer or find easy access to kayaking on the Potomac?
This beautiful four-bedroom townhouse on River Mist Drive is a perfect example. Boasting 2,508 square feet of space and a gorgeous two-sided gas fireplace, it's proof that you don't have to give up comfort and convenience to live in a fun, city-like setting.
And a lot of locals are finding they can live here for less than some of the more upscale neighborhoods in DC. The development has become especially popular with people who work nearby, including military families who value its proximity to several defense installations in the area.
Need access to public transportation? A shuttle that cuts through the community takes riders to the Metro bus stop on St. George Blvd. as well as the King Street metro station in Alexandria, Virginia.
If you're on the hunt for a dynamic environment in the shadow of the nation's capital, National Harbor is certainly worth a look. For a tour of the River Mist townhouse or any other properties in the DMV, pick up the phone and Talk to Ray!